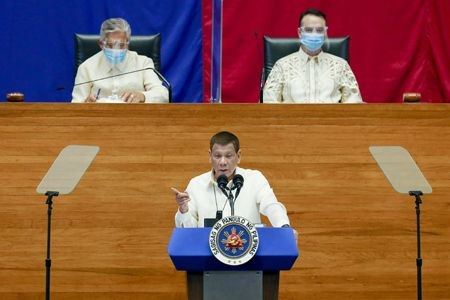 菲律宾总统杜特尔特在国会山庄发表任内第五次国情咨文
随着全球疫情的升温、中美关系的恶化,国际政治形势走向紧张,许多人认为战争似乎已经吹响号角,比冷战更可怕的热战似乎一触即发。
更有甚者,认为中国的国家实力在不断增强,是对和平局势的威胁:面对争端,中国会发起战争吗?
其实,早在一年前,中国在发布的《新时期的中国国防》就已表示:中国发誓不与任何国家开战。
中国曾遭受过别国的侵略和霸凌,对于战争的残酷与折磨有着亲身的感受,深刻 地认识到和平的珍贵,以及对于自身发展的价值和重要性。
但是中国也表示,"如果遭到武力的挑衅和袭击,肯定会反击。"
包括对于香港和台湾问题,中国也表示绝不会动用武力来实现统一,但一个中国的立场是坚定不可动摇,更不允许别国干涉的。
菲律宾总统杜特尔特执政期间,与中国就海上安全问题多次沟通、加强对话。中国和菲律宾已经就妥善处理南海问题达成共识,这为扭转双边关系奠定了坚实的基础。
同样地,菲律宾在内政问题上,也同样坚决反对别国干涉,强调主权的独立自主。
新《反恐怖主义法》的出台,引起了美国的关注,美国议员甚至要求、敦促废除新《反恐怖主义法》,这种干涉别国内政的行为遭到了菲律宾政府的反对和警告。
而近年来,中菲关系保持健康稳定的发展势头,各领域的交流与合作不断取得进展。
除了坚决反对发动战争,中国是菲律宾的最大出口市场和进口供应商,占菲律宾出口总额的近27%,也是国内最大的投资来源之一。菲律宾贸易和投资中心(PTIC)上海商务副领事马里奥•塔尼(Mario Tani)表示,两国的经济计划长期以来相互补充,在未来,这样的趋势不会改变。
(文三叶)

War is imminent? China vowed not to go to war with any country
With the warming of the global covid-19 epidemic and the deterioration of CHINA-AMERICAN relations, the international political situation has become tense. Many people think that war seems to have sounded the trumpet, and a hot war more terrible than the Cold War seems to be on the verge of breaking out.
What's more, they see China's growing power as a threat to peace: will China go to war in the face of conflict?
But as early as a year ago, China had said in the publication of China's National Defense in the New Era: China vows not to go to war with any country.
China has been subjected to aggression and bullying by other countries, has first-hand experience of the cruelty and torture of war, and deeply understands the value and importance of peace for its own development.
But China also said it would "retaliate if provoked and attacked by force."
On the question of Hong Kong and Taiwan, China has also stated that it will never use force to achieve reunification, but its position is firm and unshakable, let alone allow other countries to interfere.
During President Duterte's administration, the Philippine President has had many exchanges and enhanced dialogue with China on maritime security issues. China and the Philippines have reached consensus on properly handling the South China Sea issue, which has laid a solid foundation for the reversal of bilateral relations.
The Philippines is equally firm in its opposition to other countries' interference in its internal affairs and stresses its sovereignty and independence.
The promulgation of the new Anti-terrorism Law has aroused the concern of the United States, and the American lawmakers even demanded and urged the repeal of the new Anti-terrorism Law. This act of interfering in the internal affairs of other countries has been opposed and warned by the Philippine government.
In recent years, China-Philippines relations have maintained healthy and steady momentum, with exchanges and cooperation in various fields making continuous progress.
In addition to resolutely opposing war, China remains Philippines' top export market, import supplier,with almost 27 percent of the Philippines' total exports,also the top import supplier accounting. Philippine Trade and Investment Center (PTIC) Shanghai's Commercial Vice Consul Mario Tani said both our countries' long term plans complementing each other , and this trend will not change in the future.